VYAS FAMILY SWORD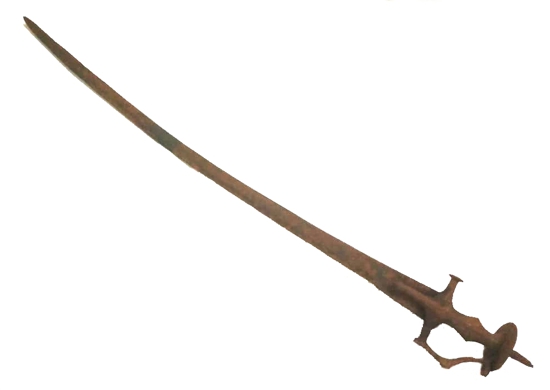 Vyas Family Sword
An incident took place where a dacoit (barvatia - gujarati word) was fought by men of Vyas family and in return the dacoit took a vow that he will cut nose of women of Vyas family. On hearing this the women of Vyas family got angry and said that they will kill him.

While going to farm the women of Vyas family used to keep sword with them. On seeing this the dacoit got scared and ran away. From that day onwards no dacoit dared to enter the village.

The above shown sword is the sword carried by the women of Vyas family.

We do not know in exactly which year this incident took place but we are sure that this incident did not take place during Vadilal M. Vyas time.
| No. | Name | Approximate Age Difference | Approximate Date Of Birth |
| --- | --- | --- | --- |
| 1. | Dalla ji | 20 | 1814 |
| 2. | Mahashankar | 20 | 1834 |
| 3. | Karsan ji | 20 | 1854 |
| 4. | Morar ji | 20 | 1874 |
| 5. | Vadilal | 20 | 1894 |
| 6. | Trambaklal | 20 | 1914 |
| 7. | Arun | 25 | 1939 |
| 8. | Gaurav | 41 | 1980 |
Vadilal M. Vyas had made a Family tree in which he had written that Dallaji Migrated to Lakhtar and from there he came to Wadhwan. The 3 children's of Dallaji namely Rupji, Mahashankar and Ramchandra in the year 1849 constructed their own houses in Wadhwan.

In Wadhwan city Vyas family ancestors had Agriculture farms.

The Vyas family Sword is in family of Mahashankar and no other family is aware about it. By this we can assume that the Vyas family sword is of Mahashankar whose wife was Lalbai whom we worship as Sati Maa in Lakhtar and Lalbai used to carry this sword with her when she went to farm.

Present Year Calculation and date of sword :

Present year 2020
Mahashankar Approx birth period 1834

Now,
2020 - 1834 = 186.

By this we can say that at present (2020 A.D.) the Vyas family women sword is Approx. 186 Years old.

Note :
This sword was with Vadilal Morar ji Vyas. When his grandson Dr. Arunkumar Trambaklal Vyas saw this sword in attic he told his father Trambaklal Vadilal Vyas that he liked the sword and wanted it. Trambaklal Vadilal Vyas asked his father as to can he take the sword and Vadilal Morarji Vyas said "its of no use here so take it". This is how the sword is with us at present moment and now forwarded by Dr. Arunkumar Trambaklal Vyas to his son Dr. Gaurav Arunkumar Vyas.
Sword History :
The Vyas Family Women Sword is a Maratha Type Sword. Now the question arises is that when our Ancestors were in Gujarat how can we have a Maratha Sword?
Here, the answer lies in the question itself.
First lets look at the following names Idhar, Gangadhar and Liladhar. The word Dhar in the end is used by Marathas.
This certainly does not mean that the Vyas family is Maratha but what happened was that Maratha ruled Gujarat from Approx. 1757 to 1818 A.D.
Because of this there can be cultural infulence of Marathas on Gujarat and it can be this reason that Vyas family names had Maratha infulence and this is how Vyas family has a Maratha Sword.
Sword Type History :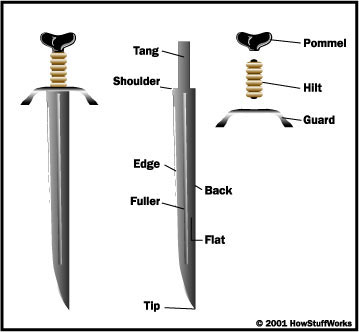 The Vyas Family Sword (talwar) is a typical Indo - Persian - Maratha Sword.

The word Talwar for this sort of Sword Blade was used by Persians because the blade is given curve but it didn't have handle guard i.e. D Guard. The D Guard was added by Indian warriors.

The Hilt / Handle, Pommel and the point at the end of the Pommel were modified by the Marathas.
Dr. Gaurav A. Vyas talk with Spark Foundation :
On 9 June 2020 I talked to Mr. Pankaj Dusane who works in Spark Foundation.
Spark Foundation does exhibition of Ancient Historical Weapons and in the year 2018 they hosted Chetak Festival in Sarang Kheda, Maharashtra regarding Ancient Maratha Weapons of Chatrapati Shivaji Mahraj time.
I asked Mr. Pankaj Dusane about the sword and he confirmed to me that this sword is of Maratha and was used by gents in war. He was very happy to see the Vyas family sword and said that the sword which you have with you is a very good sword.
He also said that Shivaji Mahraj army consisted of all sorts of people belonging to different religion, caste and creed and in old times enemy weapons were not destroyed but used against them.
Hence, Vyas family has Maratha Sword with them.
Mr. Pankaj Dusane contact number :
+ 91 - 86238 00982
+ 91 - 93715 72986