WR 104 and Sagittarius (dhanu) :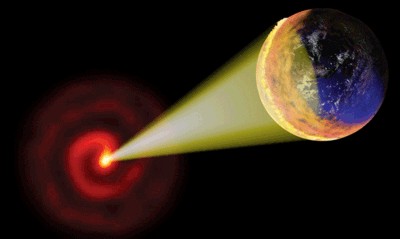 WR 104
Fifteen years after its discovery, two astronomers say earth may still lie within the sights of a potentially lethal progenitor of a stellar gamma-ray burst (GRB).
Although WR 104, a Wolf-Rayet star some 8000 light years distant, has thus far remained largely quiescent, it is ripe to undergo a core-collapse supernova of the sort that could generate a seconds-long burst of gamma-rays that, in turn, might potentially wipe out a quarter of earth's protective atmospheric ozone.
"We could see it go supernova anywhere from tomorrow to 500,000 years from now," said Grant Hill, an astronomer at the W.M. Keck Observatory in Hawaii. "For all intents and purposes, the gamma-ray burst and optical photons from the supernova would arrive simultaneously."
The question of whether a GRB from WR 104 — which lies in the direction of our Milky Way's galactic center — would actually cross earth's path has been the subject of debate for years now. But Grant says that given the continuing uncertainty about the star's alignment with our own, such a scenario can't be ruled out.
But if such a GRB did hit earth's atmosphere, says Adrian Melott, a physicist at the University of Kansas in Lawrence, it would likely cause a 50 percent increase in solar UVB radiation which would not only disrupt photosynthesis among marine and freshwater plankton, but also likely precipitate some sort of broader extinction event.
"You would first notice a 10-second blue flash in the upper atmosphere," said Melott, "but then the damage would be done."
WR 104, was discovered eight years ago in the constellation Sagittarius.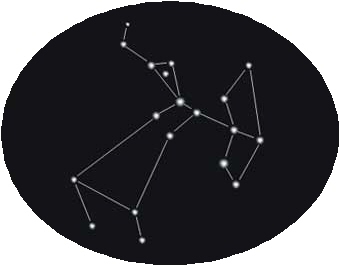 Sagittarius Constellation
WR104 is in Sagittarius Constellation did our Rishis try to tell us that there is going to be a huge supernova explosion coming from Sagittarius Constellation and the gamma-ray burst is going to come straight towards Earth?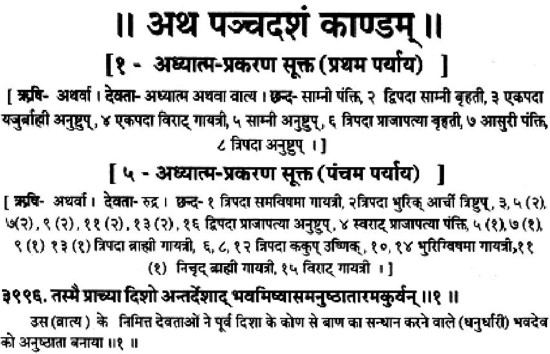 WR104 and Atharv Ved
(Atharv Ved, mantra number 3996).