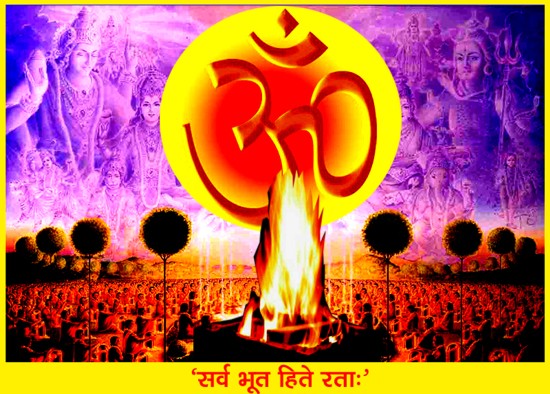 Agnihotra is a simple healing fire from the ancient science of Ayurveda. It is a process of purifying the atmosphere through a specially prepared fire.

Agnihotra is an ancient science given in Sanskrit language at the time of creation. Sanskrit it is a language of vibration. We can make changes in the atmosphere with Sanskrit mantras and fire prepared with specific organic substances, timed to the sunrise/sunset biorhythm.

Tremendous amounts of energy are gathered around the Agnihotra copper pyramid just at Agnihotra time. A magnetic-type field is created which neutralizes negative energies and reinforces positive energies. Therefore, a positive pattern is created by one who does Agnihotra merely by his/her performance. Agnihotra purifies the atmosphere of pollutants and neutralizes harmful radiation. The resultant atmosphere gives nourishment to plant life.

The process involves preparing a small fire with dried cow-dung cakes in a copper pyramid or havan kund made of bricks of fixed size and putting some ghee (clarified unsalted butter) or havan samagri into the fire exactly at sunrise and sunset to the accompaniment of two simple mantras.
Agnihotra is the basic Homa for all Homa fire practices given in the ancient Vedic sciences of bioenergy, psychotherapy, medicine, agriculture, biogenetics, climate engineering and interplanetary communication. A copper pyramid of fixed size is used in the process of Agnihotra healing fire.
Copper and gold are the only metals prescribed for the pyramid container used for Agnihotra fire. It is common knowledge of all ancient traditions all over the planet that copper and gold have healing properties.

Thousands of people all over the world have experienced that Agnihotra reduces stress, leads to greater clarity of thought, improves overall health, increases energy and makes the mind full of love.